Admittedly, I don't know much about the South. Up until a few years ago, the furthest south I'd been was Virginia Beach, and that's really just some weird gray area between the North and the South. In 2000, I was finally able to explore every last weird area of the country, and one of those areas was Tennessee, as I made stops all over the state, including Memphis and Nashville. This week's MD is from Knoxville, a town that I hear a lot of bad things about, but is all of this gossip true? There must be something cool going on, as it's home to the University of Tennessee's WUTK, and the station's music directors, Jay Lewis. Read below and find out what the future of the music industry holds for us!




1. How and/or why did you get involved with college radio?
I left the military because I wasn't happy with what I was doing in life and really wanted to be involved with music. I started writing CD reviews for the campus newspaper as soon as I got to the University of Tennessee and then went down to the station just wanting to do anything. I was surprised to find out that hardly any students were down there working and it was totally in a rebuilding phase. They (the management) said they didn't have any room for me down there because all of the Journalism (I'm doing PR) students filled all the available DJ shifts. I just kept coming down and doing odd jobs until they found out how much I knew and was passionate about music. Three months later I was a music director.
2. Name five bands you are currently in to at the moment.
The Aracade Fire is probably everyone's obvious favorite record right now, so I think I will hop on that bandwagon. Here are four more I am digging: Blonde Redhead, Pterodactyl, The Pharcyde (I like some old school hip-hop) and Dr. Dog (one of the
greatest bands I have ever seen live).
3. What kind of show do you do? When is it on? How can people listen to your show (do you stream online, frequency, etc.?)
Our station is a little bit more accessible and has a more mainstream feel to it, so I host a show on Monday nights from 8-10 pm EST called "The Indie Aisle." I play a lot of artists like Animal Collective, Hella, Crime In Choir, Lightning Bolt, Cold War Kids, Dr. Dog, Frank Jordan and a bunch of hidden tracks from '90s acts like Sonic Youth, Nirvana and the Pixies.
We stream 24/7 at wutkradio.com and I have my show available for download at our forum located on the site. I am also working on fixing the kinks to get my podcast up and running.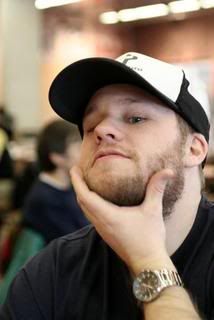 4. How does your station help the community?
We get out and sponsor and promote a lot of Knoxville events. I am particularly proud of the Knoxville Earth Day Event that we help with. We are one of the many sponsors of the event, but we also help to coordinate the live concert. This is a great venue to get our name out there to the community, while supporting a great organization that helps inform citizens on how to make an impact locally on the environment.
5. Can you give some advice to other MD's out there?
Don't be afraid to ask promoters how to do something, because they were most likely MDs once, as well. Be proactive, professional and don't act like you're too cool to play an artist -- people hate that. Also, don't lie on your charts. That's just wrong. Booyah.