After I graduated high school in '97, I spent some time at the local community college, but I wasn't happy there, and I had a lot of shit going on. The following spring I packed a few bags and moved in with friends just outside of DC in Maryland. Washington, DC had always been a musical Mecca for me, as so many of my favorite bands were on
Dischord
or at least from the capital area, plus I was a huge Baltimore Orioles fan.
I got a job at a local Border's and spent all of my time on music -- from going to shows as much as possible and frequenting the racks at DCCD and Vinyl Ink. It was amazing to go to shows and see people like Ian MacKaye, J. Robbins and Ian Svenious just hanging out in the audience. It was mainly the fact that held these people in such high regard that I was in awe, and it didn't take very long for me to discover the new generation of DC bands, and the summer of '98 was teeming with them, like El Guapo, The Most Secret Method, The Better Automatic, Q & Not U and Bald Rapunzel. And the best part about these groups was not only the fact that they were making great music, but these kids were running the scene and doing everything from booking the shows, putting out the records and simply going out to support their friends.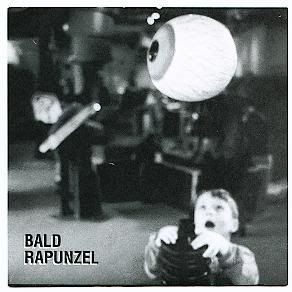 I saw
Bald Rapunzel
many times during that year in DC, from small venues like The Galaxy Hut in Arlington to opening slots for Fugazi. Their sound was one that was popularized years later, but at the time, the genuine and effecting post hardcore they played recalled Rites of Spring in their heyday, albeit from a female perspective. The band released one album while they were together, the excellent Diazepam as a split release on Dischord and the now defunct Resin Records. The band split up in 2000, and I actually can't exactly recall why -- I think Mike and Drew moved out West. Katy and Bonnie also played together in Rouge, and after BR, Katy also handled the drums in Del Cielo and runs
Exotic Fever Records
while still remaining one of the most organized and politically active people in The District.
Interview:

Splended [
here
]
Download:

"Storm" [

mp3

] /// "Three Weeks" [

mp3

] /// Buy here