They were the greatest rock band I ever saw in my life.

I saw them play maybe half a dozen times and they utterly devastated me each time, floor to ceiling, bone marrow to brain stem.

Their break up was tragic and sudden, and something I had even darkly predicted in print. Allow me to quote myself.
"One day this whole twisted wreck will fly apart and they'll be forced to kill each other in the street after a late show, and sadly you people will have missed out on the whole depraved affair."
At the beginning of the year 2001, shortly after their tour with J. Mascis and Mike Watt the Teenbeaters went their separate ways. David Milone re-joined Ours, then went on to play guitar for Radio 4. Jimmy Ascuitto and Kevin McAdams joined Elefant. Dave did a couple solo gigs that were pretty good. Zam Jimmy and Kevin did a project in 2002 called Killaholics, it was wildly more hostile than Teenbeaters and significantly more short-lived. Then there was nothing.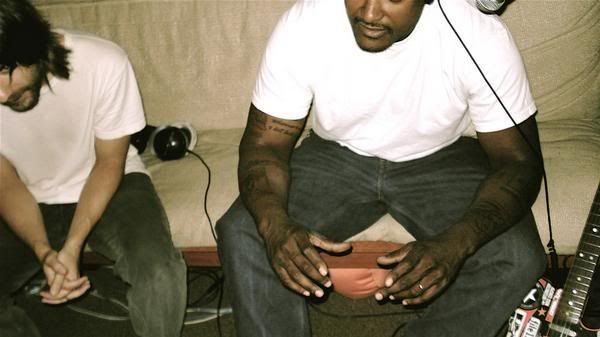 Zambia Greene went down deep, moved to Philly and eventually after six years, found music again and the Watchmakers were born. Zam got together with Kevin and a new compadre Jim Manigrassi and there was some of that old black magic.

Is it Watchmakers or The Watchmakers?

Zam: You gotta ask Kevin, I don't care too much. I simply prefer the plurality of it all
Kevin: It's always been a struggle to embrace the "the."
What's the band's official line up?
Jim:

  

When we are playing in the same room together, Zam plays guitar, rhythm, and lead, whatever he wants. Kevin plays the drums & sings back-up, I play the bass. This august will be a year recording these songs.

  

Kevin and Zam have contributed piano, organ, banjo, horns, harmonica, & glockenspiel to the record.    
Does Watchmakers sound have any connection to the Killaholics material?

Zam: I'd love to think not, but there are three of the same guys involved. The only clear differences I can think of that might be of any interest is that I wanted most of the watchmakers' songs to be in keys that put my vocals, at some point in most songs, just at the top of my vocal register (as far as I'm aware). So that way I'd still be able to sing them, but hopefully it would be too hard for me to affect my voice, which is a thing I tend to do naturally. I figured that way I'd be forced to spit it all out in whatever is my honest singing voice. And I decided to write that way 'cause I've been writing for other people since I was about 19 or so and had never really tried to find whatever might be my honest singing voice. I think in the Killaholics songs, I was just singing all over the place, and whatever I thought might sound good.
When did you start doing music together again?

Kevin: You know, Zam has been trying desperately to live like an adult and quit doing this music crap, but I keep bugging him to write.

  

I guess this whole fiasco began two years ago.
Zam:

  

Kev comes out to Philly on the Chinatown bus to rehearse and write and whatnot.



How did you recruit members?
Zam: Me and Kev just had been talking about doing something together and we needed a bass, so I asked Jim, who I worked with at the mural arts program, and he was playing in some bands in Philly at the time but didn't mind playing with us.
Jim: Zam gave me a tape of original songs from a 4-track he recorded. i got to know the songs and love them as much as all of my favorite records in my personal collection.
Is it hard having the band so spread out?
Zam: I live in Charleston, SC, Kev lives in New York and Jim's in Philly. That's like 800 miles or so. Kev's busy doing advertising music and session stuff, Jim doesn't care about anything and I'm busy as all stinking hell.
Kevin: Who knows? Hopefully within the next few months.
Jim: We are talking vinyl!
Do you even wear a watch?
Jim: No, but I believe in a higher power, "God" if you will.
Zam: I do currently; it's a very nice Elgin jawn that was my father's - found it lying around his house. I also believe god exists.
How does that relate to the watch?
Jim: Zam told me a story about this guy wandering around the desert who comes across a watch in the sand. "This proves God exist" he said. Perhaps it was pre-watch era which makes it a miracle? I've never had much say or interest in band names including my own, but 'watchmakers' match the music as if it already existed. We're picking up where the desert man left off and drifted into oasis.

Download "Hudson River Car Crash" [MP3]
[MySpace] http://www.myspace.com/watchmakers