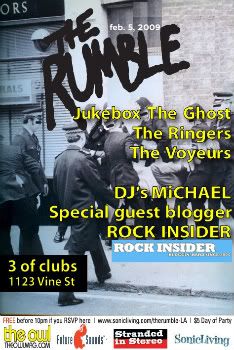 To bring you even more excitement in 2009, The Owl Mag, Future Sounds, and Stranded in Stereo are bringing you another Rumble event in Los Angeles at 9pm on February 5th at 3 of Clubs (1123 Vine St., Hollywood, CA). As you may know, our Rumble events present the best up-and-coming indie-rock artists who we think the world should know. Don't miss your chance to catch them before they become huge. This time we are introducing the music of Jukebox The Ghost, The Ringers and The Voyeurs, who will undeniably show you a fun time. So, if you know what's good for you, bring yourselves and your friends for a great night of live music.

As always, our resident DJs Michael will be there, as well as our blog partner for this month, Rock Insider

RSVP here for free entry

JUKEBOX THE GHOST
"DC's Jukebox the Ghost are an extremely entertaining piano-pop trio that writes cleverly optimistic songs. Their music gives off an aura that vaguely resembles happiness"-OH MY ROCKNESS.com. The singer/piano player Ben
Thornewil shares strong vocal similarities to Ben Folds while incorporating a dramatic and stimulating flair. The talented and ambitious piano players of Jukebox the Ghost will entice and energize any listener, you don't miss
these guys perform.

THE RINGERS
The Ringers are a four-piece Los Angeles-based rock n' roll group. They have been referred to as a tight band of pirates out to rape and pillage your senses with their unique sound and explosive show. "We're not trying to re-invent the wheel, just roll it OUR WAY." The Ringers have a very exciting sound much like The Hives and early Rolling Stones. Their second album Headlocks & Highkicks will be in progress in the month of November and will also feature their new single "Apocolypto."

THE VOYEURS
The Voyeurs release their infectious debut album "Well Known Drag" on January 27, 2009. They are a southern California based indie rock band who delve into pusle-pounding rock songs. They incorporate a fabulous mix of
'60s pop and down n' dirty classic rock. Their debut album will keep you encapsulated from beginning to end, and stand out songs such as "Things People Say" will be on repeat in your brain all day.

The Owl Mag, Future Sounds, and Stranded in Stereo have a deep love and respect for the indie music community. Having produced successful events and promoted emerging indie artists, their collaboration promises to continue a
tradition of supporting independent music, while at the same time providing locals with a place to party. Through the reach of an online music publication, indie rock internet radio station, indie retailers, and online social networking sites, our connection to the music community is broad.