Led Zeppelin, Foo Fighters, Smashing Pumpkins and Queens of the Stone Age are just a few of the rock gods counted as influences by British-based rockers
The Rushing.
A youthful State-side influenced rock drama with a bit of stiff upper lip British heritage turns its back on the stringy guitars and fraying vocals of the "scene" and attempts to re-fuel a few forgotten memories of legends past. The amps just got turned back up to 11!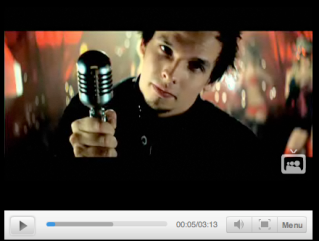 The band recently debuted the video for the song "Step Inside" from their debut album on their MySpace page and want you to watch it and win an
8GB iPod Touch
! To enter all you have to do is watch the clip and these questions:

1. What make of amp can be seen at the end of the corridor?
2. What motif does lead singer Jonny Ross have on his t-shirt?
3. What does the geek have to use when he gets too excited?
4. How many different girls appear in the video?
5. What is the name of The Rushing's debut album?

Act quickly - answers must be in by Wednesday, April 8th. We'll pick a winner at random who answered all the questions correctly. Send your answers here.

Good luck!