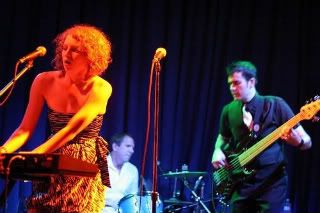 Photo by Gabe Benveniste

Step aside, Mika, Fergie, and all those in between. Oakland's Oona has beats straight from that ghetto blaster in the attic. Her track "Remote Control", featuring Jet Stream, is packed with that familiar funk and gives the biggest wallflower a reason to dance. Other tracks sample jazzy pianos and harp, as well as classic grand pianos used for poppier tracks. Whatever the vibe is, those vocals transcend and carry throughout each track.

Accompanied by three other members, Oona has recently been nominated for an MTV VMA for Best Breakout Bay Area Artist. Vote for them here: http://mtv2.lapisdigital.com/



[mp3]:

"Trouble"