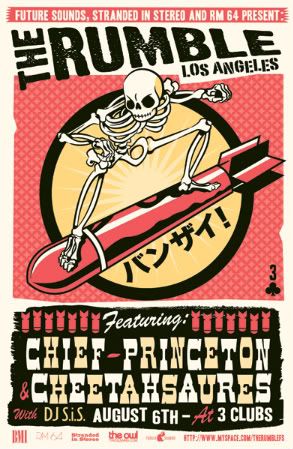 Not only is it the one year anniversary of me being in Los Angeles, it's the first birthday of the Rumble LA! Tonight's event is special, and not because of the totally obvious reason of the great bands we have -- Chief (newly minted Domino Records signees), Princeton (our fourth flirtation with a Kanine Records artist), and Cheetahsaurus (Ventura County all stars whom I am very excited to see), but also because of the industry mixer we're having beforehand. Please don't be fashionably late.

Gig starts @ 9 pm with help on the decks from DJ S.I.S.

It all goes down at 3 Clubs in Hollywood (Vine and Santa Monica)

AND IT'S FREE. NO LISTS, JUST SHOW UP!