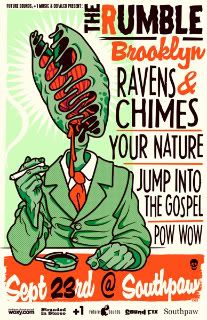 We've been out of commission for a couple of months back east with the Rumble, but we're coming back tonight as we move the party from the LES to Brooklyn's Southpaw. The only thing that has changed is the venue, as we will continue to bring you the best in new music, partnering with Sound Fix, WOXY, and Future Sounds.

Bands playing include Ravens + Chimes, Your Nature, Jump Into the Gospel, and Pow Wow. It all starts at 8pm tonight at Southpaw.



[mp3]:

Your Nature "Traingle Eyes"