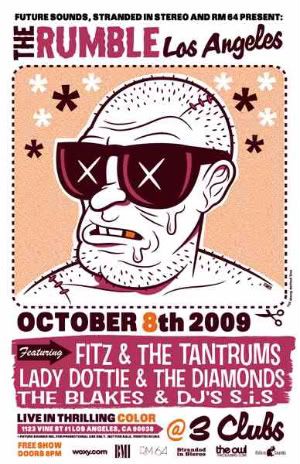 The Rumble comes home tonight, the city where it's based with a fucking awesome lineup. The Blakes open the night, and when a band of this caliber is opening, you know that shit's gotta be good. Our middle child of the night is northern soul meets garage act Lady Dottie + the Diamonds who have the potential to get real big, real quick. Although I am not a fan of their more garage numbers, but when they turn up the soul, they have few peers.

Closing the night is the exploding like a rocket Fitz + the Tantrums, who just got off a support tour with Flogging Molly. They're doing all of the Rumbles for us out west this month, and they're bringing a cadre of new fans home with them. The too small room at 3 Clubs should be packed to the gills before they go on. Get there for the fun early - it's free as always.



[mp3]:

Lady Dottie + the Diamonds "Livin' it Up"


[mp3]:

Fitz + the Tantrums "Breakin' the Chains of Love"