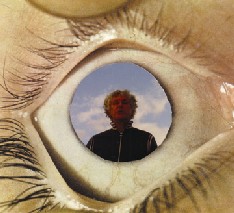 You know that I can't blog here and not mention my all-time favorite, my hero, my Jesus, my personal NKOTB, ex-
Guided By Voices
lead singer
Robert Pollard
. His umpteenth release, the "mini LP"
Silverfish Trivia
, is out April 17th (isn't he just dreamy in that track jacket??) Originally slated to be the follow-up to last year's super pop that is
Normal Happiness
,
Trivia
went from a 15 song bombast to a mere seven tracks. Bookended by two string instrumentals, the album also features the epic "Cats Love A Parade," an eight minute suite featuring fragments of songs originally on last year's
All That Is Holy
, one of Pollard's numerous side projects on his about to be defunct Fading Captain Series imprint. With that being said,
Trivia
is on the newly created Prom Is Coming imprint (that being named after a song on Bob's first solo album, 1996's
Not In My Airforce.
)
Another song featured on the upcoming release is "Circle Saw Boys Club," a very moving number that was debuted during Pollard's short tour last fall in support of
Happiness
. The song looks to be a return the more prog-like moments on his other solo album from last year,
From A Compound Eye
. Either way, it's just Bob at his best (then again with me, Bob is always at his best.)
Download:
"Circle Saw Boys Club" [
mp3
] /// [
Buy Here
]