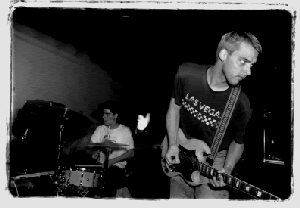 As mentioned in weeks past, the late '90s were sort of a renaissance in the DC scene -- there just seemed to be so many great bands forming, playing out and sharing ideas that every night out at a show would most likely be a memorable one. Formed from the ashes of Jury Rig, Lincoln and Fine Day was
The Most Secret Method
, a power trio in every sense. They were a band that were almost too good, yet they never really got their due as they were often overshadowed by bands that didn't deserve the attention, at least not as much as they did. The band came together in the summer of '96, playing at the center of the DC scene, the Black Cat. They supported and were supported by all of the DC greats of the last half of the last decade, going on hiatus in 2000 and finally playing their last show in 2002 at the same place they started, at the Black Cat, with Black Eyes and the Gena Rowlands Band. The band released two albums while they together --

Our Success

and the unforgettable

Get Lovely

.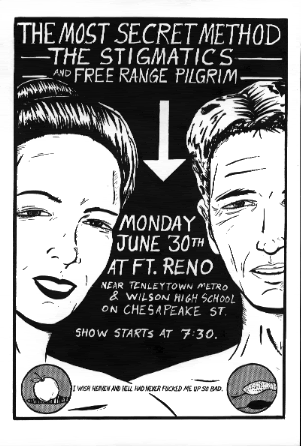 Almost as memorable as the band's music is the artwork of drummer Ryan Nelson, which adorned all of their releases and many of their show flyers. When I lived in DC, my room was covered with show flyers, but the ones that people always noticed featured Ryan's artwork.
Currently, Ryan Nelson is playing in Dischord band
Soccer Team
, as well as previously doing time with The Beauty Pill, Oswego and Routineers. Johanna has played with all star group
The Gena Rowlands Band
, and as for Marc, I have no idea what he's up to. Acting, maybe?
Download:

"Louise Lake" [mp3] /// "Spill More Blood" [
mp3
] ///
Buy here