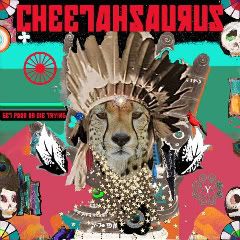 It's a feline! It's a dino! Nope, it's Ventura's own Cheetahsaurus. The band just posted two new songs from their upcoming LP. "Lights Out (early bird gets the worm)" has a dreamy mood, much reminiscent to The Arcade Fire. "Black Eyes and Alibis" is one to hear for the vocals alone. Both tracks prove to be an impressive preview of the album to come.

The 5-piece recently played August's LA Rumble (the monthly party we co-sponsor), completely mesmerizing those who got a chance to peep the set. Keep your ears peeled for the new LP—but until then, stream the tunes via their Myspace.



[mp3]:

"Trailblazer"



POST BY GUEST BLOGGER KATRINA.