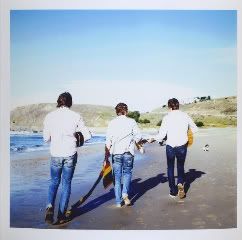 Photo by: Nate Rea

Just when you thought you got your alphabet right, you discover A B & The Sea. The SF-based band boasts traces of California surf sound, mixed with good ole familiar contemporary indie. Chris Chu of the Morning Benders discovered and helped to produce the foursome.

Featured in SF Weekly's "Best of 2009", we'd have to support such a mention. One of their tracks, "We Love the Life That We've Got" is the perfect anthem for your good days.

The band plays two shows at the end of the month. Do check them out:
08/25- The Independent- San Francisco
08/26 Spaceland- LA
POST BY GUEST BLOGGER KATRINA.