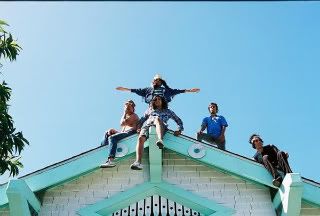 Straddling county lines with roots in Long Beach and Costa Mesa, The Growlers bring a bit of grit and dust from your parents' old record collection. With riffs like The Animals and vocals like Devendra, it's safe to say that these guys have their own charm working for them.
Let's not forget that these guys have a "Greatest Hits" album under their belt. With that said, the band continues to work on new hits to add to the repertoire. Beginning September 27th, they will be releasing couples each month that will consist of 2 new songs until the full-length album is done. They are also currently working on 2 music videos for the first couple.
Currently, they are finishing a residency at The Echo every Monday night. Enjoy them for the next two shows on August 24 and August 31.
[mp3]:
"Soul of Coral"
POST BY GUEST BLOGGER KATRINA.