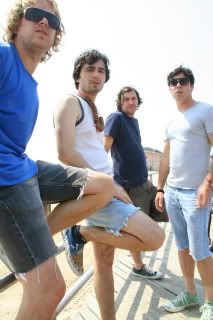 Photo by Deb Caponera
The lights are on and they're not turning off anytime soon. San Diego's five-piece, Lights On, keeps us whimsically peachy with their garden of tracks. "John and Anne" is a soft personal love letter duet coated with youthful bliss.
Making #14 on HypeMachine's charts, this band reminds us of the bright artists on your summer playlists, including Elefant, Polyphonic Spree, Stars, and even Modern English. One Kind Radio blog reviewed their EP, "Waiting for the Heart to Beat", as "varied, solid sounding, and promising".
Lights On
has played several shows in New York this month before they make their way back home to San Diego to finish off a show at the Beauty Bar on August 20th. If you are in the area, stop by for a listen.
[mp3]:
"Boy"
POST BY GUEST BLOGGER KATRINA.