I hope everyone enjoyed their Labor Day Weekend. I can't really say that I did much that was exciting -- I did some hiking deep in the desert and went to the shore. Sunday night I was dragged out by my fiancee to see The Time Traveler's Wife, which really wasn't all that bad, although I probably would have wanted to see something else.

This week will be my favorite type of week for a number of reasons. For one, it's shorter, and also, there's lots of good music coming through. First off, I should mention that the Rumble, a quickly growing national network of club nights, is back this week. We've been co-sponsoring these for awhile, and we're happy that they continue to get better. Some absolutely amazing music this week, and chances are you have not heard these guys yet, but we've also brought you bands like Chairlift, Apache Beat, Nico Vega, Local Natives, Band of Skulls, the Depreciation Guild, and others before anyone else cared. Come out and say you heard it here first!

Portland, OR - TONIGHT! Sept. 08



San Francisco - Wednesday, Sept. 09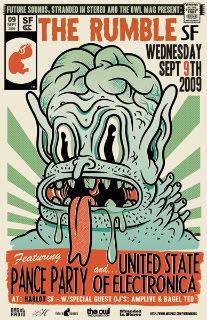 Los Angeles - Thursday, Sept. 10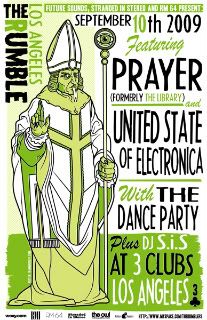 Listen to some of the bands here (sorry, no mp3s right now):

United States of Electronica
The Library (now know as Prayer)
The Pance Party
Hello Electric

And in further gig news, LoveLikeFire is on the road for just two more US dates before they head off to England for a headlining tour. See them tonight in Portland (Oregon) at the Doug Fir and tomorrow night in Seattle. I highly urge you to check them out -- someone on Twitter put it best today when they said that LLF is what Rilo Kiley SHOULD sound like now. Good times.